Overall Winner of Established Entrepreneur Category, EY Award
23/11/2018
As featured on:
Related articles:
CEO Derrick Yap was the Overall Winner of Established Entrepreneur Category,
Entrepreneur of the Year (EY) Award
.  Organised by the Association of Small & Medium Enterprises (ASME) and the Rotary Club of Singapore, the award honours Derrick for being a leading end-to-end supplier for robotics and industrial 4.0 solution Trade and Industry Minister Chan Chun Sing gave out the awards to the entrepreneurs at a ceremony at the Ritz-Carlton Millennia, Singapore. Read more at the links above.
READ MORE >>
KAZE @ Industrial Transformation Asia Pacific 2018, Singapore
18/10/2018
Our GR-200DLR and GR-20CP was in action at Industrial Transformation (ITAP) 2018 that was held in Singapore Expo from 16-18 October. The GR-200DLR and GR-20CP made their debut in a trade exhibition, with the Deck Lift AMR working together with a manipulator AMR to complete an order of retrieving multiple SKUs. The innovative Goods-to-Person solution reduces errors such as picking of wrong SKU and allows employees to focus on value-added tasks by reducing the distance they travel in a traditional Person-to-Goods set-up.
READ MORE >>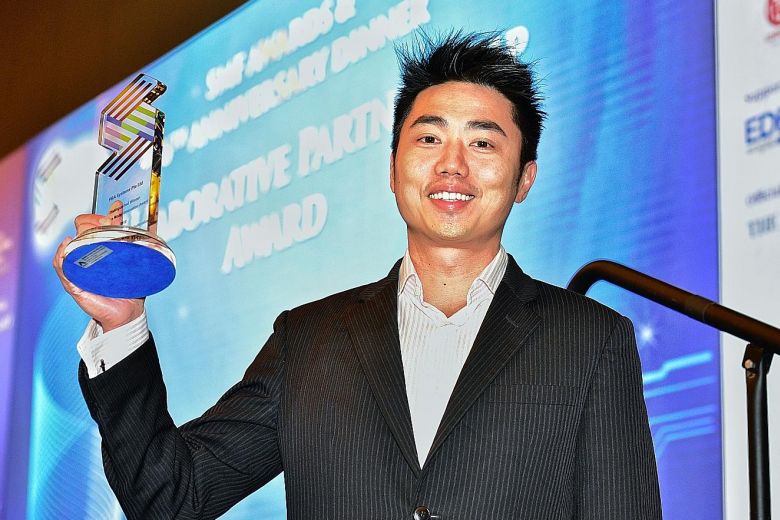 Distinguished Winners of the SMF Business Model Innovation Award
27/09/2018
As featured on:
CEO Derrick Yap emerged Distinguished Winners of the SMF Business Model Innovation Award during the Singapore Manufacturing Federation Awards event yesterday. The SMF Awards saw a total of 17 companies awarded for their innovative, collaborative, and sustainable efforts. The award recognises the business transformation of the Group after adopting a new business model to provide robotic solutions after realising its trading business model may not work in the decades to come and also our contribution to Industry 4.0. Finance Minister Heng Swee Keat stresses the importance of adoption of Industry 4.0 technologies to remain relevant in the highly globalised and competitive sector for Singapore manufacturers. Read more in the article above.
READ MORE >>